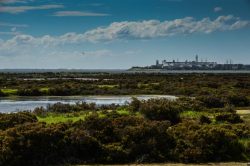 By Luke Voogt
The State Government has unveiled plans for Moolap land including Alcoa's former Point Henry site.
Bellarine MP Lisa Neville said the draft plan proposed four precincts covering 10 square kilometres of coastal land.
"Moolap has significant environmental values and is vulnerable to the impact of climate change," she said.
"The draft Moolap plan addresses these important factors while painting an exciting future for the area and greater Geelong."
The plan includes a Pt Henry tourism precinct, an industrial area, a south-east zone for residential development, and a saltworks and wetlands space for environmental use.
"There will be improved wetlands and stormwater management and important protection for areas of heritage and environmental value, including the habitats of the area's unique birdlife," Ms Neville said.
South Barwon opposition MP Andrew Katos questioned whether the Andrews government could provide the required infrastructure.
"They're going to open another growth front – who's going to pay for it?
"And how are you going to balance residential development with industries in the area that need a buffer zone?"
Plan submissions are open at engage.vic.au/moolap until 31 May.