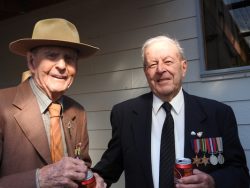 By Luke Voogt
World War II veteran Tom Randall has attended Anglesea's Anzac Day ceremony longer than most Australians have lived.
"I've done it ever since I've been in Anglesea," the 102-year-old told The Indy Wednesday. "I moved there in 1972."
Kenneth Thomas Randall served as a mechanic in 65th Anti-Aircraft Searchlight Company (Royal Australian Engineers) in Darwin from 1942 to 1945.
He remembered arriving in Darwin six months after 242 Japanese planes attacked ships in the city's harbour on 19 February, 1942.
"One of the first things I remember was all the sunken ships in Darwin Harbour. They (had been) sitting ducks."
The Japanese would bomb the city almost 100 more times, but Mr Randall avoided any near misses.
"Although they bombed Darwin all the time, you weren't always in the place they bombed," he said. "It's a very big place."
He would ride his motorbike around the city and its outskirts maintaining searchlight generators.
Goannas would give him a scare more often than bombs, he said.
"You'd ride your motorbike around and that would frighten the hell out of them. They were pretty big – they'd give you a fright alright when they'd jump out of the trenches."
Mr Randall is one of five members of his unit still alive, he said.
"We don't have a reunion anymore because there's not enough of us left."
The great-grandfather of five has given the salute for the ceremony for years, but this year handed it over to Moss Darby a 94-year-old RAAF Veteran from World War II.
"He's OK," Mr Randall said. "We don't talk about the war very much, we just like to catch up socially."
Anglesea's Anzac Day march begins at the corner of Noble Street and the Great Ocean Road at 9.30am.