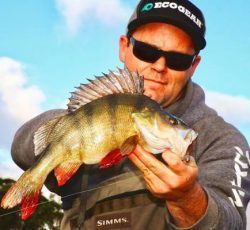 On the Bite, by Chris Pitman
Perfect conditions over Easter sent anglers out far and wide.
St Leonards was popular, with a mixed bag of fish keeping anglers busy.
Whiting were the main target at St Leonards, as they were spread from the section of water known as Bourke Street and down toward the entrance to Swan Bay. Fish to over 40cm were taken, with a bit of tidal flow increasing catch rates.
Squid also featured in anglers, but at times were hard to tempt. Meanwhile, drifting the deeper nearby water of 10m or more was the way to go for a nice catch of flathead.
Queenscliff also had squid on the chew for anglers drifting with size-3.5 artificial jigs. Whiting were taken over the grass beds to the east of the harbour, while anglers fishing The Rip boated the odd kingfish with a variety of tactics.
Soft-plastics accounted for pinkie snapper around Geelong's waterfront.
The Barwon River estuary fished well over the Easter break for whiting, mullet, Australian salmon and silver trevally. Pippies on light running-sinker rigs worked well anywhere along Sheepwash Road, although strong tides made conditions challenging.
Trelly's Fishing World Geelong's Adam Van Der Lugt ventured up to the Goulburn River near Eildon where he landed brown and rainbow to 40cm while casting hard-body lures from the bank. Adam noted that the river was high and slightly discoloured, which seemed to make the fish bite more aggressively on lures up 95mm.
I spent an afternoon trolling Lake Bullen Merri with the aid of downriggers for rainbow trout to 1kg. As the day went on, I found that flat-line trolling with Daiwa Double Clutch lures and Tassie Devils in pink #55 worked a treat, with Chinook salmon coming on the bite as well.
Michael Evans again found Wurdee Boluc Reservoir productive, banking numerous redfin to more than 40cm with long casts from the lake margins.
Newly opened Stoney Creek fished well for brown trout to over 1kg on spoon-type lures. Some impressive redfin were also taken as by-catch.
Next week should be worth fishing at Leonards for white, while Geelong's waterfront Bay could produce some pinkies on soft plastics for pinkie snapper. Freshwater fishos should try Lake Bullen Merri for rainbow trout and Chinook salmon.