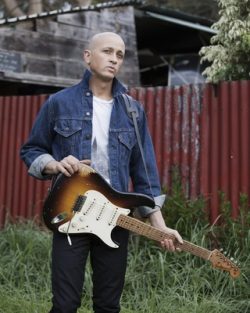 By Luke Voogt
Mark Denis Lizotte, better known as Diesel, said people still walked into his shows not realising "I wrote those songs".
Nearly every Australian would know Diesel's iconic 1992 hit, Tip of My Tongue.
"It's definitely the one people connect, but I can't explain why," he told the Indy ahead of his upcoming Geelong show.
"I guess it's got this really contagious groove thing."
But many in the audience forget he penned pub classics like Man Alive, Cry in Shame, Never Miss Your Water and Come to Me.
"I've had songs that have technically had more air time," he said.
"Woolies, Bunnings and Dan Murphy's – it doesn't matter where you would go you would hear them – and you still do.
Diesel has toured Australia solo since the winter of 2016 with his latest album, Americana.
"If I'm not in the studio, there's a good chance I'm out touring," he said.
"(After three decades) I don't know any different, really. My office just moves around, I guess."
Diesel said he was looking forward to returning to the Gateway Hotel for the second time on 5 May.
"It's intimate," he said, "especially for the solo show I'm doing.
"The whole Melbourne music culture really extends into regional areas well past Geelong."
Diesel tours with his "colourful palette" of six or seven different guitars – including some electric.
"(Crowds) are not used to seeing someone go full-throttle on an electric guitar without a band around them," he said.
"Years ago, it just seemed absurd. But who said just because you're playing a solo show, you have to do an acoustic guitar?"
He has even played a banjo or mandolin on occasion.
"I have a go at anything that has string on them," he said.
It's fitting because he learnt to play music on a cello through the school system at his childhood home in Arizona.
"I did it originally to please Mum, Dad and my sister," he said.
"But I feel in love with it – as soon as you hear the sound, it makes you become addicted."
When his sister gave him his first electric guitar at age 14, it was like a "toy".
"It was like (my hands) had been to the gym," he said,
He described his latest album as the "family scrapbook of (his) musical heritage".
The album includes songs like Joni Mitchell's Circle Game, which Diesel remembered singing in the tub at two years old.
"I was already learning to rip things off, even at that age," he said.
Part of his upbringing included touring the country with his brother-in-law, rock legend Jimmy Barnes, whose voice was "inhuman".
"Jimmy's such a passionate and forceful singer – that was kind of like boot camp for me, and it really forged me," he said.
"But I still feel like the shoe-gazing guitar player that started singing sometimes."
Diesel promised his next Geelong show would include his greatest hits.
"I've had such a blessed career, and I will be forever scratching my head trying to figure out how I've made a career of this," he said.