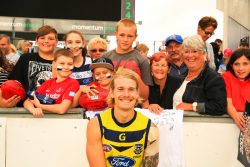 The Cats goal accuracy and late-game brilliance could be the key in this Sunday's match against the Saints.
Geelong have outscored their opponents dramatically in the last quarter of their first four games, including an 11-to-2 goal final term against Hawthorn.
"We have great confidence that we finish games well," said Geelong coach Chris Scott.
The Cats continue to lead the AFL in goal accuracy at 62 per cent, despite a very inaccurate first half against the Hawks.
"We were good around the ball, and we did give ourselves some chances," Scott said.
"We worked to generate the shots but missed a couple of easy ones."
Post-match talented young Cat Nakia Cockatoo said the club's kicking gave the players "enormous belief".
Cockatoo was impressed with his Cats perseverance to "keep making sure we execute" which allowed them to straighten up dramatically in the second half.
"Every now and again you've got to stuff up a kick."
Accuracy will likely be factor Sunday with powerful Cats half-forward Tom Hawkins leading the AFL in goal kicking with 16.5, alongside Adelaide's Eddie Betts. Fellow forward Daniel Menzel trails him by a few goals on 13.
But St Kilda has a good chance to stop Hawkins with key defender Nathan Brown in good form and the Saints leading the AFL in contested marks.
The speedy Saints play well at Etihad Stadium, but will have to be cleaner to beat Geelong after scrappy wins against the Brisbane and Collingwood.
Scott acknowledged the Cats were still "a work in progress" despite their accuracy and finishing.
"As a coaching group, we're struggling to work out where exactly we sit in the competition – so we've stopped trying," he said.
"I'm pretty sure we're not the best team. We won (against Hawthorn) when we weren't playing great footy, particularly early."
Mitch Duncan had an outstanding game against Hawthorn with eight votes in the AFL Coaches' Association Player of the Year award, after winning 32 disposals and kicking two goals.
Scott said the "flexible" Duncan was "flourishing" as an inside midfielder.
"I think this year we're playing him more in his preferred position and he's helping the team a lot more than he has in the past."
Young guns Cockatoo, Brandan Parfitt and Tom Stewart have stood out in the first four games, with Stewart kicking his first AFL goal against the Hawks.
"I was just talking to my sister before and apparently it took less than a second to get on the boot," Stewart said post-match.
"I just kicked it as far and straight as I could and it went through, so I couldn't be happier."
But two other young standouts, James Parsons and Sam Menegola, will miss the game after copping suspensions.
Parsons will likely miss two weeks for a stray elbow to Luke Hodge while Menegola will miss one for a dangerous tackle, also on Hodge.