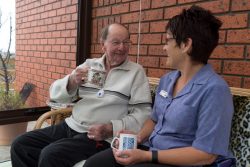 For 88-year-old Ralph McVilly and his family, Uniting AgeWell's home care services are a godsend.
Ralph's son, Steve McVilly said carers from the organisation not only provided his father assistance around the home and garden, but an invaluable, overall holistic service.
"Dad grew up in state care and is particularly suspicious of strangers," he said.
"Not only do the carers assist with housework, gardening and general cleaning, they're able to engage in conversation with him and encourage him on healthy eating, improving his overall quality of life and wellbeing."
Steve said the carers were amazing and their work often went unrecognised.
"They provide help around the home, encourage positive behaviour and even fixed his bird cage when it was broken," he said.
Uniting AgeWell provides Home Care Packages to seniors across the Geelong region.
Uniting AgeWell Community Programs Coordinator Teresa Roberts said Home Care Packages could include help with cleaning and gardening around the home, social engagement activities, allied health services or assistance with showering.
"All Home Care Packages are different and tailored to the individual needs of clients," she said.
"They go a long way in assisting seniors to remain at home through the provision of physical and social support measures and support seniors to live the life they want as they age."
For more information about home care in the Geelong region, contact Uniting AgeWell Barwon Community Services on 5241 1544.