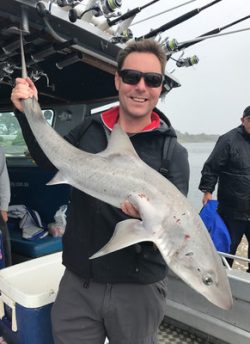 On the Bite, by Chris Pitman
Anglers managed mixed bags last week before bad weather hit.
Corio Bay was constant for pinkie snapper, flathead and Australian salmon.
Fishing land-based was worthwhile, with the rocks at St Helens Boat Ramp giving up pinkie snapper and flathead.
Anglers who fished off Portarlington during breaks in the weather caught snapper to 6kg along with gummy sharks of similar size. Baits such as pilchard and fresh squid worked well, with sounding up schools of snapper before dropping anchor also increasing chances.
St Leonards through to Swan Bay hosted improved whiting action on fish averaging 40cm.
The Bourke St area through to the Swan Bay's entrance fished well late in the afternoons, with pippie the standout bait when used on running sinker rigs heavy enough to hold bottom.
Gummy sharks were a viable target further out in 20m, again on fresh baits.
Queenscliff also held reasonable numbers of whiting.
The Rip continued producing kingfish for anglers trolling or working knife jigs, with this time of year normally featuring some of the best-quality kings.
Some anglers also reported sighting southern bluefin tuna in The Rip.
Gone Fishing Charters guided clients onto some well-conditioned gummies during the week while fishing out of Queenscliff.
Elephant fish were caught around the Barwon River estuary's Sheepwash area.
Bream to over 40cm were also banked by anglers with live bait.
Slower waters around tide changes have helped anglers increase their catch rates in the estuary, which should be a great option for kids to target small salmon, trevally and mullet during the Easter break.
Surf anglers who found a break in the weather beached salmon to 1.5kg with lures cast from beach or rock platforms.
Freshwater anglers kept focused on Wurdee Boluc Reservoir where redfin were banked with spoon-type lures such as Norries Wasaby. A few large brown trout should be lurking around the lake margins, since it was this time last year when they came on the chew.
The Easter break should present opportunities to fish St Leonards for its big whiting, while The Rip could have anglers in the running for some great kingfish action.
The Barwon estuary is recommended for parents with kids, while freshwater fishos should keep Wurdee Boluc in mind for large trout and redfin.