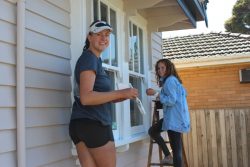 By Luke Voogt
After years of searching and a summer of working bees, local charity Bluebird Foundation has finally found its home.
"They say that 'home is where the heart is'," said the foundation's Bron Lawson at Bluebird House in South Geelong on Wednesday.
"Well, there's been a lot of heart put into this place and it certainly feels like a home for Bluebird and the work we do for the community."
Volunteers transformed the dark, dingy, weatherboard cottage into a vibrant arts space, with the help of donations from locals and businesses.
They worked tirelessly to clean stained carpets and mould, tidy the garden and paint the cottage from top to bottom, Bron said.
"We had a whole week between Christmas and new year's of different people coming to help. I'm so impressed with the energy and enthusiasm people brought with them."
Bron said the house would help make the not-for-profit group "self-sustainable" by allowing it launch "user-pays" programs and store equipment.
"We were desperate for storage space – until now all our equipment was stored in the houses of our artists and volunteers."
Local donors contributed everything in the house from instruments to the toilet brush, she said.
"At the moment we're almost entirely reliant on philanthropic grants and donations."
In one of those programs, Geelong artist Laura Alice will run for classes for eight to12-year-olds and a Girls Street Art Collective for teens.
But Bron said Bluebird would continue to operate programs "out in the community" – like its art groups for children in the 3214 and 3219 postcodes.
"Close to 200 people access our programs each week. We need to meet them at their point of need."
In one of the foundation's newer programs, local songwriters will team with homeless teens.
Bron said the program would help the teens' development and "reduce the stigma surrounding homeless people".
"Music and songwriting is a really powerful way to share stories and connect."
The program will feature the talents of Tim Neal, Jack Robbins, Sarah Carroll and Lucy Jones – who was at the Bluebird House on Wednesday.
Lucy is employed as an artist at the foundation, after an extensive musical theatre career and 30 years teaching piano.
"I love songwriting," she said.
Lucy runs music and art Playlinks classes for children and parents in Geelong's north.
"It's a genuine attempt to make connections between people. You really see change in the people you work with."
Bron said Bluebird Foundation has completed 20 projects for more than 5000 marginalised people in Geelong, with the help dozens of artists and volunteers.
The foundation will officially open its new headquarters on 26 March, with market stalls, food and a chance to work with local artists Laura Alice and Liz McGrath.
During term two the foundation will launch its Workshops at Bluebird House where young artists can book a space to teach.