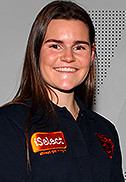 She stars on the field in the inaugural season of the AFL's competition for women, but Geelong's Lily Mithen might meet her match when she returns home this weekend.
The 19-year-old has volunteered to power a "Leprechaun Tumble" during Sunday's Irish Folk Festival at St Patrick's Primary School, Geelong West.
Apparently the tumble involves pedalling a stationary bike that powers a tumbling raffle barrel.
But the catch, or maybe that should be 'mark' in Lily's case, is that the crowd gets to say when the draw takes place. And the festival tumble has three draws.
Sounds like a risky commitment on a tired footy player's day off.
Luckily, for Lily at least, Geelong doesn't have an AFL women's team – or she could have been in for the pedalling of a lifetime!
Stepmotherly treatment for Avalon?
Parochial types might have been concerned at this week's announcement of a third airport for "Melbourne".
Apparently, State Government's 'Plan Melbourne 2017-2050' calls for acquisition of land in the city's southeast to build a $5 billion airport.
And the land must be secured in the next five years, which raises questions about the state's support for Avalon's development.
Sure, the government has subsidised Jetstar to continue flying from what we in Geelong would call "our" airport.
But if Avalon's only large-scale operator of passenger flights needs taxpayer largesse to stay on site then surely the airport's already up against it in competing with big-daddy Tullamarine.
Logistics might be partly behind the plan, what with the growth of Melbourne's south-eastern suburbs and all, but surely the government should ensure Avalon's viability before even float the idea of state-supported competition.
Airport reclassification: how's it going?
Meanwhile, the Federal Government could lift its game on Avalon as well.
As the Indy revealed prior to last year's election, both major parties made a bipartisan pledge to reclassify the airport as the first step toward international flights.
The classification, the Indy revealed a month earlier, was the previously unknown stumbling block to development of an international terminal – an ongoing dreams of airport management and locals alike for the past decade.
So all these months later, how's that reclassification going?
Over to you, Liberal Member for Corangamite, Sarah Henderson.
On not-so-unrelated matters, readers might like to consider the latest initiative of Geelong's astute Costa Group.
The fruit and vegie giant has ordered a bunch of back-up generators to safeguard its mountains of perishable stock ahead of forecast power shortages in Victoria, according to The Weekly Times.
Whether running a footy club, getting GPAC upgraded, developing farmland or building a business empire, Geelong's Costa brothers have always shown plenty of acumen spiced with insight, so it's a more-than-fair bet the generator gamble will pay off, too.
As such, anyone sufficiently cashed up might like to consider a similar acquisition for their own household ahead of winter – and maybe another for any pensioner next door!