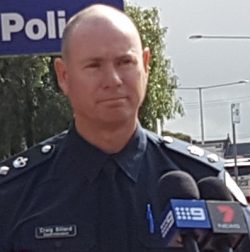 By Luke Voogt
Police are making significant inroads into crime, according to Geelong Superintendent Craig Gillard.
Supt Gillard cited internal data from Geelong Police Station that was three months more up to date than data released by Crime Statistics Agency Victoria on Thursday.
He compared crime for the year to date to the same period the previous year.
"There's some really good results in the last nine months," he said.
"If we keep tracking how we are, the 2016-2017 calendar is looking much better (than the agency data).
"But there's still a lot of work to do."
According to Supt Gillard, commercial burglaries were down 20.5 per cent while residential burglaries were down 9 per cent.
"Aggravated burglaries are the ones that are causing us grief – they're up 50 per cent."
Supt Gillard said the tactic of targeting known recidivist offenders was yielding good results.
"Handling stolen good offences are 16 per cent," he said "but that's a good sign because that's a police detected offence."
Vehicle theft was up 10 per cent while theft from vehicles was down 7 per cent, Supt Gillard said and added that thefts were down by 41 per cent.
Of the about 2000 thefts from vehicles, half occurred due to unlocked doors, he said.
"To me that is astounding."
The agency's data indicated increases in crime, including burglary and assault, during the 2016 calendar year.
Bail offences decreased from 537 to 450 from 2015 to 2016 during the January-December period.