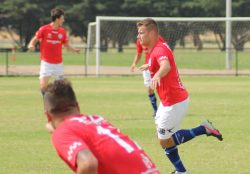 Soccer, by Josip Zilic
According to North Geelong coach Micky Colina, his Warriors are up for a test of character after going down at home against Port Melbourne last weekend.
Their next opponent is Northcote City away in round four of the FFA Cup. Northcote sit on top of NPL2 West having bagged 17 goals in six rounds so far, and experienced their first loss last week courtesy of Dandenong Thunder in a comprehensive 4-2 result.
Heading into the clash against Port Melbourne the Warriors needed to dust off a lethargic performance from last week and did so, displaying more energy and pressure for most of the match.
However it was the visitors who took the lead when Oleksiy Khrapko finished a low, hard drive past Marko Stevanja in the 19th minute.
With the pressure on, the Warriors responded with a period of sustained pressure, getting the reward for it in the 32nd minute, Juso Julardzija neatly finishing from 10 metres out after Bobby Vidanoski's initial attempt.
The tempo for the remainder of the half was with the Warriors as they almost camped themselves in Port's defence – but lacking the killer instinct allowing several chances to go unpunished.
After the break, the Warriors tried keeping the pressure on and were able to find Vidanoski and Julardzija in wide areas, combining well – but they cast lonely figures up front as the Warriors midfield began to show signs of dropping off.
Despite their effectiveness on the match Vidanoski and Julardzija were substituted for Nicholas Jurcic and Kene Eze who offered gallantly to get keep up the fight the latter having an effort saved by the fingertips of Brendan White soon after coming on.
With the Warriors midfield trio dropping off in intensity Port's Francesco Stella literally seized the moment.
In the 69th minute Stella took possession on the corner of the 18-yard box and beautifully curled it into the top corner giving Stevanja no chance.
One minute later he was at it again, cruising past North's midfield to work his way to the left of goal and taking the game out of North Geelong's reach.
Colina was reflective of the performance lift but stressed "we simply didn't take our chances".