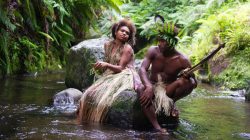 Bethany Arthouse Film Festival will celebrate its 20th year with the Oscar-nominated Tanna this month.
The Best Foreign Language Film nominee will launch the festival on 28 March.
Tanna is a tale of forbidden love between Vanuatu tribeswoman Wawa and her chief's grandson, Dain, even though she is betrothed to another man in a peace deal following a tribal war.
Tanna co-director Bentley Dean will attetnd the launch to answer audience questions.
"It's an honour to be able to present Tanna at the opening night of the Bethany Arthouse Film Festival," Dean said.
"It's a wonderful festival with a very big heart."
The crew from another Australian film featuring in the festival, Monsieur Mayonnaise, will also take questions from the festival-launch audience.
Bethany Community Support's Grant Boyd said the festival was a great night out for an excellent cause as Bethany's major fund-raiser.
The festival runs until the end of August with five international and Australian films.