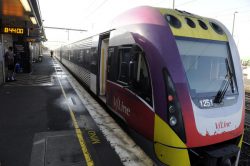 Transport advocates want express Geelong-Melbourne trains to shave up to 21 minutes off commuter trips.
Local commuters should have the choice of 50-minute services stopping only at North Geelong and Footscray, Rail Futures Institute secretary Bill Russell said.
"Current journey times are now no faster than they were in 1958, partly because new suburban stations have been added to the Geelong line," Mr Russell said.
Public Transport Victoria's website shows that Geelong to Melbourne trains take 56 to 71 minutes.
Overcrowding from new suburban stations on the Geelong line would only worsen as residential development expanded, Mr Russell said.
He described the Victorian Government's $4.2 billion Regional Rail Link as "a victim of its own success".
"It's turning the Geelong line into a suburban line and risks defeating the link's purpose of separating V/Line and Metro trains to allow speedier journeys for regional passengers."
Express trains would only be a short-term solution, Mr Russell said.
He urged the Government to electrify the Wyndham Vale corridor and separate it from V/Line services.
"Extra tracks would be required to accommodate Geelong express trains that would pass electric trains stopping at the new south-west metropolitan stations.
"If the suburban and regional networks are not separated, Geelong is liable to become the terminus of a long slow suburban journey."
Mr Russell said a pair of express tracks added to the Regional Rail Link line would cut the Geelong-Melbourne trip to 45 minutes and potentially take 40,000 cars off the road.
"Duplication is urgently needed between South Geelong and Waurn Ponds to service the burgeoning communities to the west and south of Geelong CBD," he said.
The institute called for a new Corio Parkway station on Geelong's northern outskirts to replace the "poorly patronised" Corio station.
The Government should also accelerate implementation of a planned train stabling and maintenance centre near Waurn Ponds, the institute urged.
"(This) will also greatly improve the efficiency and reliability of the entire Geelong line and create new skilled jobs for Geelong workers," Mr Russell said.
Longer-term proposals for Geelong rail services are included in the institute's InterCity report.