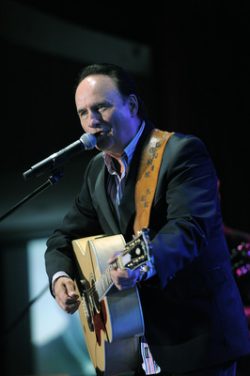 By Luke Voogt
A founding father of Australian rock will come to Geelong next weekend during his 60th anniversary tour.
After decades playing for sold-out crowds Lonnie Lee is still not slowing down.
"If anything I'm much more alive on stage," the 77-year-old said.
"I used to be a shy sort of a dude. As the years have gone I've sort of lost that."
Lee is celebrating the birth of his career in 1957 when he won a radio competition to find "Australia's Elvis" when he was just 16 years old.
"Hardly anybody knew Elvis at that time," he said.
"There was no top 40 and rock and roll was still relatively new.
"To be statistically correct its 61 years," he added.
"I started on an amateur competition on (a Sydney radio station) and came second in 1956."
Lee grew up in the New South Wales town of Rowena to the sounds of his mum and dad's piano and American country music.
He taught himself the ukulele at 13 and a few years later he moved onto guitar.
The birth of rock and roll would see him rise to fame.
"That was when the arrow shot me through the heart and I thought 'that's the music that I love'."
Lee still remembers his first Geelong concert in 1959 with fellow icon Johnny O'Keefe on the last day of Australia's first rock tour.
"When the rock movement began in the US the kids went ape!" he said.
"That's exactly what we experienced as well."
The final gig would become infamous for O'Keefe's dramatic "swan dive" at the end of the day.
"We were close friends," Lee said.
"He said to me 'Lonnie if you see me fall down on stage don't worry about it'."
The press lapped it up reporting O'Keefe "rocked so hard at Geelong last night he rolled over and collapsed".
"And that's, of course, what he wanted," Lee said.
"That's what everyone was doing those days."
Lee played for 60,000 in Australia's first open air rock and roll concert.
"That was a monstrous affair," he said.
"But it's also really nice to have the intimate things where you can see their eyes and they can see yours."
Lee said his last Geelong performance in 2006 at the RSL was "stacked to the rafters".
"I do close to 50 songs. It's bang, bang, bang – I don't just lure people in there to bore them to death with talking."
Lee does an annual gig during Seniors' Week in the north NSW town of Maitland where the local council banned him in the late '50s after his crowd broke chairs in the town hall.
He said when pensioners normally "stooped over their walkers" sing "their faces out" he would "see all these young people again".
But he added that his Maitland fans' chair-breaking days were well behind them.
Lonnie Lee will be playing at the Geelong Performing Arts Centre on Saturday 25 February at 8pm.