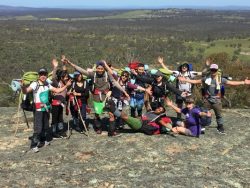 By Luke Voogt
North Geelong refugee students had their first taste of Australian bushland in a three-day trek near Bendigo this month.
"It was the first time I've been camping in my life," North Geelong Secondary College student Mohammed Maalim said.
It was one of many firsts for Mohammed, like seeing a kangaroo and learning about Australia's Aboriginal culture.
The 20-year-old said camps like this were great for new arrivals to get to "know the culture of Australia".
Mohammed's family fled to Kenya from Somalia as civil war ravaged the county. His grandmother was raped and his aunt killed during the war, he said.
"We moved to Kenya so that we could get some help."
He and his eight siblings grew up in a Kenyan refugee camp living off limited rations of maize, oats and beans for nearly 20 years.
Criminals plagued the camp raping and stealing refugees' scant food and water supplies, Mohammed said.
Luckily his father protected the family, he said.
Despite only one day of schooling a week, Mohammend found work as a carpenter during his last years in Kenya "so I could earn some money and help my family".
Since immigrating to Australia with his family nine months ago he has wanted to continue his carpentry career.
"I'm very good at it and it's what I like to do," he said.
North Geelong Secondary College VCAL co-ordinator Julie Elkin said the trek was about getting the 18 students out of their comfort zone.
"It's always really pleasing to see how all the kids encourage each other," she said.
"I think most of them are already very appreciative of their new country."
Ms Elkin said the school had a strong English as an Additional Language program that catered for new arrivals.
She said new arrivals often struggled to find employment due to their developing English skills.
"We're always looking for people who want to take them as work placement."
"They don't have the networks that people that grow up here have. They can't always go to their extended family or friends for jobs and apprenticeships."
"But they are generally really hard workers that actually do want to succeed."
Victorian non-profit group Doxa funded the trek.
"Which was great for us – being in the northern suburbs we struggle for funds sometimes," Ms Elkin said.