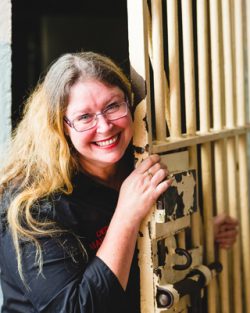 By Luke Voogt
Tour guide Deb Robinson will join a live, worldwide hunt for "paranormal evidence" at Geelong Gaol this Sunday.
Ms Robinson is part of the only Victorian team in the international ghost hunt, streaming live on Facebook from Scarefest in Lexington, Kentucky.
"We're always after evidence of spirits and we definitely have some that interact with tour guides at the gaol," she said.
Ms Robinson, two "ghost investigators" and a local medium will join 70 teams from North and South America, Europe and New Zealand that will be live-streaming during the event.
Geelong Gaol was long-rumoured to be one of Australia's most haunted gaols, Ms Robinson said.
As Victoria's prison hospital since 1849, the gaol had the highest death rate of convicts in the state.
Ms Robinson said her team would record inaudible sound in the search for electronic voice phenomena (EVP) – sounds interpreted as "spirit voices".
The event organisers would "debunk" explainable sound to derive paranormal noises, she said.
Mr Robinson welcomed sceptics of ghosts to attend the event.
"We love sceptics coming along – we love to prove them wrong."
Ms Robinson said proceeds from ticket sales at twistedhistory.net.au would go to Geelong Animal Welfare Society.