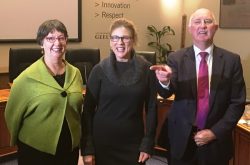 A green bent emerged among Geelong's council administrators during a series of decisions this week.
Slashing "carbon" emissions and protecting Bellarine Peninsula yellow gums were among initiatives the trio supported at their monthly meeting on Tuesday night.
They also knocked back a proposed Portarlington development partly on town character grounds despite acknowledging its "local job opportunities".
The administrators – Dr Kathy Alexander, Laurinda Gardner and Peter Dorling – endorsed a strategy to cut the council's carbon dioxide emissions by 50 per cent while increasing investments in renewable energy.
City Hall described the council's draft greenhouse strategy as the "next step" in making it "carbon-free".
"As one of the leading employers in the region, and with one of the largest environmental footprints, it's important that the City leads the way in reducing greenhouse emissions and ensuring our environment remains clean and is sustainable for future generations," said city services acting general manager Vicki Shelton.
The City was seeking public comment on the greenhouse strategy, she said.
During the meeting the administrators also adopted an Ocean Grove Significant Tree Project, which focussed on the endangered Bellarine yellow gum.
City planning and development acting general manager Joanne Van Slageren said the project sought to "balance the unique character and feel of Ocean Grove with the tendency to subdivide and remove trees to fit large houses on small lots".
"Without this balance there is a risk that there will be continued loss of the characteristic vegetation," she said.
Ms Van Slageren said planning scheme changes to allow for the project would "not preclude all future development" but ensure it "reflected the special character of Ocean Grove and its remnant vegetation".
The administrators also refused a rezoning application for a "small" commercial precinct with four-storey accommodation and shops at Portarlington.
Dr Alexander acknowledged the proposal's benefits, including urban renewal, quality tourist accommodation and local job opportunities.
"However, local policy favours development respecting the coastal character of Portarlington, and encourages higher density mixed use apartments in and around the town centre," she said.
"The mixed use zoning associated with the development has not been sufficiently justified and on this basis the proposal has been abandoned."
Dr Alexander said the City received 27 submissions objecting to the plan and petition with a further 231 objections.