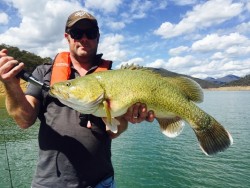 Local anglers caught everything from trout to tuna and snapping over the past week.
The King of the Rip competition produced an impressive array of species from around the Bellarine Peninsula, including 3kg elephant fish from Swan Bay's channel and the Barwon River estuary.
Snapper were the most common species with Daniel Sparks's 6.142kg fish the best.
Mulloway even appeared at the weigh-in where Greg Vagg's fish from the estuary tipping the scales at 3.3kg.
Other captures included flathead, Australian salmon, gummy shark and silver trevally.
Clifton Springs produced snapper to 6kg with Wilson Spit and the spoil grounds among the best locations. Squid were taken over the grass beds in 3m to 4m on 2.5-size jigs.
Anglers drifting off Indented Heads caught respectable flathead while whiting to 35cm were also around for boats in closer.
Young Jake Walsh fished inside the Swan Bay channel, catching a feisty gummy shark that inhaled a salmon fillet.
The Rip provided impressive fishing for salmon. Gone Fishing charter clients caught fish to 70cm after a school erupted on the surface in a feeding frenzy with whiting over 40cm taken from the Queenscliff area.
The Barwon estuary remained worth fishing for mulloway, bream and elephant fish. The Sheepwash area yielded all three.
The Western District still fished well for tuna despite some rough weather. Schooled-sized bluefin were taken in 10m off the Fitzroy River.
Lake Bullen Merri remained solid for rainbow trout to 2.5kg. Ken Worland fished for the bank with Powerbait to land a footy-shaped rainbow of 1.9kg.
Justin Burns and Simon Williams spent Sunday trolling hard-body lures around the edges of Lake Eildon. Simon boated a Murray cod of 70cm.
Michael Evans banked redfin to an impressive 45cm while fishing the margins of Wurdee Boluc Reservoir with Norries Wasabi Spoons, which allowed long casts to reach fish holding in deeper water.
Over the next week, anglers seeking fresh fish for Easter should try the great whiting fishing at Queenscliff, while St Leonards should be good for flathead and Clifton Springs could be worthwhile for snapper.
Anyone still keen on kingfish should try the Rip.