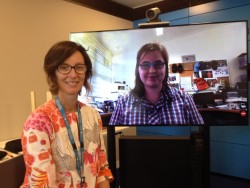 By JOHN VAN KLAVEREN
A window into Geelong's digital future opened this week with a demonstration of ultra-high speed internet at North Geelong Secondary College.
It is the first mainstream government school in Victoria to be connected to the one gigabit Australian Academic and Research Network (AARNet).
The school's John Mullins is also the project lead for the Geelong Secondary Schools and Community (GSSC) Digital Learning Hub project.
The project hopes to have all Geelong region schools, Gordon Institute and Geelong Regional Library service connected to AARNet, with a $4.7 million funding proposal before state and federal governments.
Mr Mullins said the ultra-high speed connection had made a "massive difference" to the school's digital life.
"We were suffering with poor internet connection, not only in bandwidth but also in gaining access to the internet at all, at times, Mr Mullins said.
"Most government schools add supplementary connections just to support the number of users they have.
"With the one gigabit connection there are no bottlenecks, everything just happens, we have no issues with drop outs through lack of bandwidth.
"For us this is a 10 to 15 year solution considering we have 800 plus students and 90 to 100 staff, each with at least one device."
Mr Mullins said the school had borne the cost of installing its own fibre connections and the ongoing annual subscription.
The promised NBN, due to start construction in Geelong this year, would struggle to provide a similar service, he said.
"Even hanging off the NBN, we would max it out already," he said.
Wednesday's demonstrations included a live cross from the Geelong library to the school and a mobile inflatable immersive 3D theatre combining gaming technologies and visualisation tools.
The demonstration included a range of progressive online teaching and learning opportunities being pioneered at North Geelong SC.