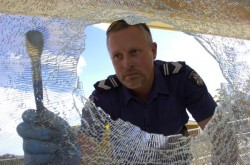 Crime in Geelong's northern suburbs has risen by 15 per cent over the past year, confirming the region's place as among the state's worst burglary hotspots.
New figures from insurer RACV show that one in every 31 homes was hit, an increase from the previous year of one in 36 home burgled.
The RACV released the figures in the lead-up to Easter as a warning to homeowners heading away for a break to secure their homes to avoid the risk of burglary.
The figures show Corio, North Shore and Norlane was the ninth-most burgled postcode in Victoria and the third-highest of all regional areas.
The 3220 postcode had a burglary rate of one in 39 homes over the past 12 months.
RACV Home Services General Manager Aaron Flavell said thieves were typically active over the Easter break and targeted vacant properties while residents were away.
"Thieves look forward to the holiday periods as a chance to strike and they see your holiday as their opportunity," Mr Flavell said.
"Experience shows that people occasionally do forget to do some basic tasks before they leave, presenting thieves with easy entry.
"It is important to ensure external doors and windows are locked and we recommend residents ask trusted neighbours to keep an eye on their house while they are away."
Other RACV tips included setting lights on a timer, leaving clothing hanging on the line and avoiding posting holiday information on social media.
"Installing a monitored alarm, backed up by CCTV, is known to be an effective deterrent to predatory thieves and can provide homeowners with peace of mind," Mr Flavell said.
"Research shows that 60 per cent of burglars would seek an alternative target if they noticed an alarm and that most burglars will try to determine if an alarm is present before attempting a burglary.
"It's also important to double-check your home insurance policy to make sure you have adequate contents cover to replace stolen goods, should the worst happen."
Mr Flavell said residents should also take care at their holiday destination, with several regional and coastal holiday spots also experiencing high burglary rates during peak periods.