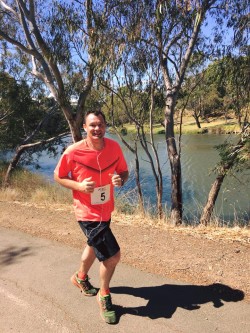 By ALANA MITCHELSON
A South Geelong personal trainer is set to claim a world record of running 55 marathons in 55 days this Wednesday while raising money for charity.
With six months of solid training under his belt, Matthew Daniels has run a marathon a day since 1 January.
He is now five days away from taking the Guinness World Record away from a Japanese man who has held the current record of 52 marathons run on consecutive days which he set 2009.
The 36-year-old father of three has worked in the fitness industry for nine years and is no stranger to long runs.
"I've had plenty of experience so my body's known what's coming. It's a huge passion," Mr Daniels said.
"I've run the Melbourne Marathon, Great Ocean Road Marathon, ANZAC Ultra – which is over 450km in five days – and the 760km from Adelaide to Geelong in 12 days.
"I've had no issues or injuries so far with the back-to-back runs. I usually try to get them out of the way before 10.30am every morning.
"There haven't been any days where I couldn't run or move or anything like that. I'm feeling good."
But the feat has come with its challenges of juggling work and his social life.
Mr Daniels is to be married in four weeks' time.
"My fiancé has been really supportive. She's picked up the hours at our gym," he said.
"Most days during the week I have support from clients, friends or family who have run alongside me.
"I want to inspire my clients that they can achieve anything."
The Armstrong Creek resident was motivated after reading the book With Every Step by Neil Cadigan.
It documents his son Andrew's 15,000km charity walk around Australia which raised $65,000 for the Cancer Council and Leukaemia Foundation.
Just 12 weeks after his trek, Andrew died after suffering severe head injuries in a motorcycle accident in Thailand.
"Andrew had been raising money for research into myelodysplastic syndrome (MDS) after his mate died from the disease," Mr Daniels said.
"I wanted to do something to continue his work.
"His father, Neil Cadigan, gave me the green light to go ahead and do the back-to-back marathon runs, and we talk a couple of times a week.
"He was absolutely rapt. I think he's really proud of what I'm doing and the awareness I'm raising for his son's cause."
To fulfil the world record criteria, Mr Daniels has needed to run a minimum of 42.2 kilometres, the official marathon distance, each day.
He also requires race witnesses, verification by Geelong Cross Country Club, video recording of the start and finish of every run, and screenshots of an app that tracks his running course and distance.
He has special plans for his last marathon on Wednesday.
His best mate, a marathon newbie, will join Mr Daniels in his last run.
His friend has promised to donate $1 for every kilometre Mr Daniels runs, a total of about 2500 kilometres equivalent to the distance between Melbourne and Townsville, Queensland.
This will take the tally of money raised to about $5000 and he hopes to raise a total of $7000.
"We plan to take off at about 1.30pm in the afternoon so that I finish up at about 6pm at the Moorabool Street bridge," he said.
"We'll have a bit of a barbecue afterwards with friends, clients and family to celebrate."
Others plan to join in at different points along the Barwon River trail as Mr Daniels breaks the world record.
He said anyone who wished to support him could donate towards the cause at give.everydayhero.com/au/cad-s-cause.