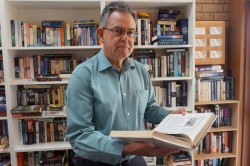 By ALANA MITCHELSON
A record number of Geelong families are struggling to meet school costs this year, according to support services.
UnitingCare said it would help 400 Geelong children with school essentials but 30 families remained on its waiting list.
An Australian Scholarship Group report has identified Victoria as the most expensive state for education.
Victorian costs are 12 per cent above the national average, with regional families paying on average $53,200.
Demand in Geelong began rising to record levels after the Federal Government cut $271 million from social service grants, welfare agencies said.
Newcomb mother Janet, who wanted her surname unpublished to prevent identification of her children, said she had to rely on UnitingCare Geelong so her 15-year-old daughter had the required books, stationery and school uniform.
Unable to work after three cancer diagnoses in recent years, Janet said the support "made the world of difference".
She first accessed assistance for a son in senior high school. He went on to achieve a 90-plus ATAR score and enrol at university.
The support had "taken away a big stress", Janet said.
"Everybody's doing it hard in Geelong and I can't see it getting better any time soon. School always comes on the back of Christmas, so January is a terrible time because you're playing catch up after spending a bit more over Christmas.
"As the kids progress up the grades, books become more and more expensive. Books alone can be up to $600 because it can cost $80 per book.
"Years ago there wasn't that kind of pressure on families.
"School costs have risen significantly in the last few years. My first child was in high school about 18 years ago and fees have doubled, easily.
"There's a standard fee as well as a cost per subject and, depending on what the kids are interested in, it can cost $150 per subject.
"And this is the public system."
UnitingCare Geelong chief Des Younghusband said "school-ready" expenses were increasingly beyond the reach of low-income families.
"We see a lot of families really struggle with the cost of shoes, uniforms, books and stationery. Parents can spend over $1500 just on school books," Mr Younghusband said.
"A lot of people say the cost of living is having a real impact on their budget. From rent to utility bills and transport, families are being stretched to the limit.
"We've noticed a spike in the number of people calling us for help already this year."
A 2015 Auditor-General's report said some parents were paying schools for items that should be free, such as head lice checks, first-aid nurses and grounds maintenance.
Victorian Council of Social Services chief Emma King said many parents were in a "great deal of confusion" about school charges.
"There's also limited information about the resources available to support families with the costs of education," she said.