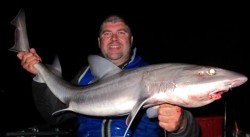 ON THE BITE Chris Pitman
Hearing all the talk about snapper Toby Masters teamed up with his grandfather and uncle for an attempt at a big red.
Launching out of Clifton Springs last Tuesday afternoon the guys anchored up just south of the Point Richards channel. Not long into the session Toby's rods buckled over with a snapper of 3kg attached.
Toby's fine angling saw him boat his first snapper. By the end of the trip the trio boated another six legal sized snapper plus a bag of flathead as well.
Last Saturday Kevin Hunter was fishing the ANSA convention held out of Queenscliff. Kevin took a nice flathead over 1kg that came from inside the Swan Bay channel. Other anglers in the convention weighed in snapper to over 6kg from the Mornington area along with some impressive sized pike from back towards Swan Bay.
With a midnight start Sunday night Tackleworld Geelong's Michael Moore was on the hunt for a gummy shark.
Anchoring up alongside the South Channel out of Queenscliff Michael was plagued by nuisance fish such as Port Jackson and banjo shark.
After sifting through the unwanted for an hour or so Michael assumed his latest hit was just more of the same. But as he went to net the culprit the light from his head lamp revealed a gummy shark which promptly took off and gave him grief.
Finally Michael boated the gummy shark going just over 8kg, making made fishing solo in the middle of the night worthwhile.
Just around the corner at St Leonards anglers have encountered reasonable numbers of squid from the pier. Casting artificial jigs has been most effective at night on the outskirts of the pier lights.
Snapper have also been taken at night from the pier with dedicated anglers fishing the early hours taking home the best results.
St Leonards has also started to see larger model flathead taken from shallower waters. Casting soft plastics or drifting blue bait, anglers boated fish to 60cm.
Down the Surf Coast the spinning action is really starting to fire up with those fishing both beach and rock platforms taking home the goods.
Bancoora Beach at the beginning of the run in tide produced Australian salmon to 2kg. Those driving a little further west down to Lorne took salmon of a similar size but in larger numbers from the many rock platforms. One of the standout lures at present has been the Sea Iron Pelacus.
Freshwater anglers fared well this past week with large yellow belly, redfin and trout all finding their way into angler's bags.
Michael Evans last week spent some time fishing the numerous lakes surrounding Ballarat for redfin. He was able to bank numerous fish to 46cm in length. The trusty Fish Arrow soft plastic did the trick with a long cast and slow retrieve necessary.
Up at Lake Eildon Tony Hynds spent last weekend targeting the large yellow belly. Tony had an excellent trip boating 3 yellow belly to 55cm. He noted that purple coloured hardbody lures worked the best. As a by catch Tony caught an impressive sized Murray cod of 73cm that was promptly released.
Adam Van Der Lught was at it again this time fishing the many small streams flowing in and around the town of Bright. Casting his fly rod Adam found no shortage of both brown and rainbow trout to 800gr. Adam remarked that it was some of the best dry fly fishing he has experienced and the water quality was superb.
Those with snapper fever can still expect a reasonable chance next week from just off the channel at Clifton Springs.
Swan Bay would have to be the best place for a mixed bag of quality fish such as flathead, pinkies, whiting and squid.
Cod season is now open so heading north and trying Eildon should yield good results.