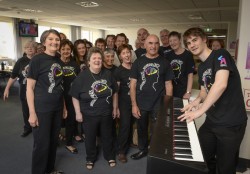 By JOHN VAN KLAVEREN
A GEELONG community choir hopes to change the world – one song at a time.
With One Voice Geelong has been together for six years and now averages 50 singers at its weekly rehearsals – and growing.
Conductor Kym Dillon said members came from all walks of life.
"The choir links different social groups that wouldn't necessarily be linked elsewhere," Mr Dillon said.
"Singing breaks down the barriers and enables people to make connections or hang out together that otherwise would never have had that opportunity.
"Plus, everyone acts as a support; perhaps someone needs some sympathy or is looking for work."
Mr Dillon said his favourite choir moments were when people who had never before sung in front of an audience did so for the first time.
"They're nervous but they're always well supported by being part of a group. They'd never try public speaking but they can sing on stage at Melbourne Town Hall."
The choir will perform at that venue again in a With One Big Voice concert on 8 November alongside other community and school choirs.
A member had suggested With One Voice Geelong should perform Life in a Northern Town as its entry, Mr Dillon said.
"That song resonated with the group, given that Geelong has lived through factory closures. It felt relevant for the town."
The choirs are affiliated with Creativity Australia, whose founder, Tania de Jong, said singing made people happier, healthier, smarter and more creative.
"There are a lot of lonely people in our communities. Their isolation leads to anxiety and depression, unemployment and so much more," Ms de Jong said.
"Through singing with other people we break down the barriers between us and build stronger communities.
"With One Voice empowers people to care for one another, instead of relying on top-down, siloed, social welfare services. Together, we can change the world."
Readers can watch With One Voice Geelong's entry at singforgood.org.