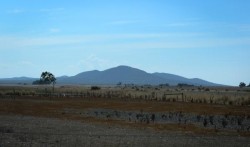 By NOEL MURPHY
ANXIOUS green activists are marshalling resources against plans for an 80-hectare sand quarry in the foothills of the You Yangs.
The Bisinella group has lodged its Sandy Creek Rd quarry proposal with City Hall, which has yet to advertise the plan.
Western Melbourne Catchment Network claims the quarry threatens wildlife, waterways and traffic amenity.
The group's Susie Inglis-McCrae posted on Facebook concerns including "removal of habitat for wildlife, pollution of Hovells Creek, and increased trucks movements on narrow surrounding roads.
The proposed quarry was also "wholly inconsistent with the You Yangs Regional Park as a popular destination for tourists, bird watchers, bush walkers, nature lovers and mountain bikers".
The site was zoned farming and had a "significant landscape overlay" for its location at the base of the You Yangs, Ms Inglis-McCrae said.
Nearby property owners expressed concerns the new quarry would destroy the rural landscape, saying the area already had one "moonscape" from a nearby abandoned mine.
Bisinella corporate affairs manager David Withington said the property was next to several existing quarries.
"The quality of sand available from the site is a scarce resource. It's widely used in the residential and general construction industry, particularly in concrete and roadways," he said.
"A new planning permit application will be lodged with the City of Greater Geelong in the near future. The proposal will then go on public exhibition.
"The application currently with the City of Greater Geelong will be withdrawn."
Ward councillor Tony Ansett said he was aware of concerns about the proposed quarry.
"I've been out to the site and the old mine already there is a shocker."
Cr Ansett said a wildlife corridor along a creek near historic property Wooloomanata, which borders the proposed mine site, was "so pristine".
"Obviously this is something I'd like to see safeguarded."
Sandy Creek Rd also hosts other sand miners and Ford Proving Ground.
A City Hall spokesperson said the property, about 10km north of Lara, had a planning permit and work authority for sand quarrying on approximately five hecatres.
But council received a planning permit application in February for sand quarrying on an additional 90 hectares, the spokesperson said.
The Department of State Development, Business and Innovation had endorsed a draft work plan for the expansion.
"Council has requested further information from the application to enable assessment. The nearest dwelling is approximately 1.2km away," the City spokesperson said.