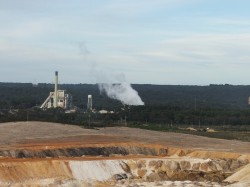 By NOEL MURPHY
ALCOA'S Anglesea coal mine should not host a repeat of Morwell's Hazelwood fire fiasco, says Surf Coast Shire.
The shire's council will ask Emergency Management commissioner Craig Lapsley to review the power plant's fire management planning, preparedness and response as a matter of priority.
It wants an Emergency Management Commission task force recently appointed to check the state's preparations for the coming fire season to assess the Alcoa plant together with the Anglesea community.
The move was initiated by Cr Margot Smith to avoid a repeat of the 45-day Hazelwood fire earlier this year – believed the longest mine fire ever in the Latrobe Valley.
"It had significant impacts on people living and working in Morwell and surrounding areas, sending smoke and ash over those areas," Cr Smith said.
"The subsequent Hazelwood Mine Fire Inquiry … emphasised the need for fire preparedness and emergency response plans for both mine operators and emergency services."
Earlier this year, the Surf Coast Shire called on the Federal Government to clean up or decommission the Anglesea power plant.
Last year it called for an explanation from the Environment Protection Authority why Victorian standards for sulphur dioxide levels in air were more lenient than overseas standards.
The Alcoa plant, presently for sale, employs 80 people and has been target of a protracted campaign demanding it shut following Alcoa's closure of its aluminium smelter at Geelong's Point Henry, which the plant had powered.
"It is imperative that Anglesea is prioritised in all planning and prevention activities," Cr Smith said.
In particular, work plans for the Alcoa mine needed to "specifically address best practice fire prevention, mitigation and management, to ensure that the disaster of Morwell is not repeated in Anglesea", she said.