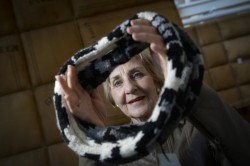 By NOEL MURPHY
FAUX fur takes a new turn in a wildlife hide exhibition being prepared at Geelong's National Wool Museum.
Artist Ruth Marshall has replicated a striking collection of brilliantly spotted, striped and colourful wildlife skins due to go on display next week.
Tigers, jaguars, leopards and thylacines, numbats, bandicoot, striped possums and endangered species such as Leadbeater's possum and tiger quolls are just some of the species Marshall has hand-knitted, stitched and sewn.
Author of Vanished into Stitches, Marshall is an Australian-born artist whose distinctive work is sourced from museum and zoo research into exotic, extinct and endangered animals.
Her work provides a wide audience for scientific specimens rarely in the public eye.
The museum said Marshall's focus on the issue of species-decline "also reminds us of the intrinsic natural beauty that inspired us to covet these creatures in the first place".
The exhibition, with the same title as her book, includes a series of Aussie animals that Marshall studied at Melbourne Museum and reproduced as a one-of-a-kind textile work.
The wool museum, in Moorabool St, hosts Vanished Into Stitches until December.