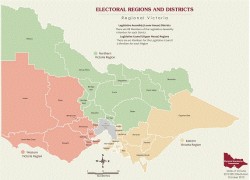 By NOEL MURPHY
The Liberal battle to win the critical state seats of Geelong, South Barwon and Bellarine is moving into top gear with Premier Denis Napthine and MPs stepping up their visits to the region.
Mr Napthine appeared in Geelong three times last week to spruik a student housing project, a new Headspace office, a tourism conference, and a new Epworth Geelong hospital.
The visits coincided with bullying allegations against Geelong councillor and Labor South Barwon candidate Andy Richards and amid job cuts at Ford, Alcoa and Avalon Airport.
Federal Liberal Member for Corangamite Sarah Henderson has also maintained a steady barrage of announcements and appearances.
Political commentator Antony Green has identified Bellarine, presently held by Labor's Lisa Neville, as a must-win seat for the Liberals.
He said the loss of Labor-voting Newcomb, Whittington and St Albans Park to the seat of Geelong and their replacement with traditional Liberal stronghold Barwon Heads from South Barwon has converted Ms Neville's 1.4 per cent margin in 2010 into a notional Liberal majority of 2.5 per cent.
"This is a must-win seat for the Liberal party but Labor has the sitting member and in a regional seat such as Bellarine the sitting member factor can be more important," he said on his ABC blog.
"Polls have indicated a decline in support for the Victorian coalition since 2010, grim news for the Napthine Government. Unless the Coalition can improve its state wide-position, its position in the key marginal seats makes it difficult for the government to win the 2014 election."
Labor has been quiet in the early stages of the election campaign in comparison to the Liberals. Veteran MP Ms Neville has tackled issues across the region but Cr Richards has been relatively quiet, apart from rejecting bullying claims as politically motivated.
Labor's candidate for Geelong Christine Couzens, who works in the office of the seat's retiring MP, Ian Trezise, has also said little.