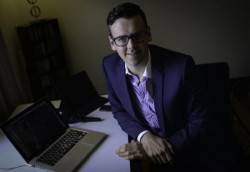 By JOHN VAN KLAVEREN
As a professional storyteller, Geelong West broadcaster Joel Carnegie is always on the lookout for interesting stories.
"I'm passionate about telling stories that challenge or deepen our relationship with the world around us," Mr Carnegie said from his home studio.
He has set up his own media production house, called The Space Company, generating stories and content for ABC Radio National, Fairfax Media, ABC Classic FM and German international network Deutsche Welle.
Mr Carnegie's story, Voices Without Borders, on Australian asylum seekers, has been picked up by the German broadcaster's World Link program.
"This story is one of hope, courage and above all voice and will also add a new Australian perspective to the international discussion about asylum seekers," he said.
The documentary feature is about a Melbourne choir comprising boat arrivals and set up by Geelong's Choir of Hard Knocks director, Jonathan Welsh.
"What I wanted to do was add a different perspective and add a human face and voice to the issue," Mr Carnegie said.
"We often don't hear from the people themselves and this gives them a voice across our own borders to understand their perspective.
"What struck me the most was that they are very much like us; they have the same hopes, dreams and fears as the rest of us."
Mr Carnegie said the choir became the only way asylum seekers connected to Australian society as they awaited visa application outcomes.
"I was able to speak to many of them about the difficulty of adapting to Australian life while enduring the uncertainty, coming from such diverse and harrowing backgrounds.
"For some it's the only weekly activity that has any meaning."
Mr Carnegie said although Australians struggled with the divisive issue internally, the issue was attracting global interest.
Since returning from London last year Mr Carnegie has worked on a range of stories about Geelong.
"There are so many great stories coming from the region. It's wonderful to be able to share these at a national level," he said.