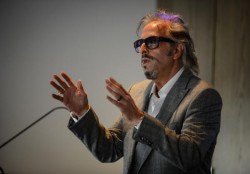 By JOHN VAN KLAVEREN
A PAIR of 1950s Holdens battle it out on the treacherous Great Ocean Road, the precipitous drop looming as the desperate drivers seek an advantage as they race to Geelong.
This is the scenario that backers of a film proposal hope to reproduce if they can garner enough local support – $9 million of it, in fact.
Producer Bobby Galinsky brought a little Hollywood razzle dazzle to town this week as he spruiked the benefits of basing a $42 million film production in the region.
His proposed movie, Dust and Glory, is the story of a fictitious fourth Redex Trial climaxing in Geelong after a round-Australia race featuring skulduggery, sabotage and ingenuity keeping cars on the road.
The proposal arrives as local producers Gavan O'Connor and John McGlynn cast their children's feature, The Chickabees, starring Paul Mercurio.
The pair sought out Mr Galinsky for advice as they ramped up their local production.
Hosting a number of productions would create in the reigon an "ecosystem" of film production, spinning off hundreds of full-time jobs and thousands of part-time and casual positions.
Mr Galinsky believed the region was ready to become a film and television industry hotspot.
"The area is behind film and the potential investors I met were right behind it.
"The climax takes place in Geelong, with the money shot of cars knocking each other off along the Great Ocean Road.
"We hope to pull it together in the next month, re-cast and set a date for a shoot."
Mr Galinsky said investors could form syndicates in a form of crowd-funding "on a bigger scale".