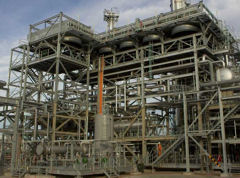 $2.9bn sale confirmed
SHELL'S Geelong 450 full-time refinery workers and 150 contractor jobs are safe following the confirmed sale of the oilco's Corio refinery and service stations  to Vitol for a total transaction value of approximately $A2.9 billion.
Geelong Mayor Darryn Lyons welcomed this news today after a horror week for the city with the announced closure of Alcoa's Point Henry plant and possible sale/closure of its Anglesea power plant.
"We've saved the Shell jobs! This is great news for Geelong," Cr Lyons told the Independent.
The sale covers Shell's Geelong Refinery and 870-site retail business – along with its bulk fuels, bitumen, chemicals and part of its lubricants businesses in Australia. It also includes a brand license arrangement and an exclusive distributor arrangement in Australia for Shell Lubricants.
It does not include the Aviation business, which will remain with Shell Group, or the lube oil blending and grease plants in Brisbane, which will be converted to bulk storage and distribution facilities.  The majority of Shell's downstream staff in Australia will continue to operate the business under its new owner.
Shell's upstream operations in Australia, in which it will continue to invest, are not impacted by this announcement.
Industry Minister Senator Ian Macfarlane, said the decision was welcome news for the Geelong region.
"The announcement that Vitol will buy Shell's downstream assets is a great opportunity for workers at the refinery," he said.
"The refinery is an important employer in the Geelong region.  I now encourage workers and unions to sit down with management to determine the best ways to maximise productivity and international competitiveness.
"It's essential that this process is constructive and comprehensive so as to make the most of new opportunities for growth and to keep jobs in the local area."
Ben van Beurden, Shell's chief executive officer, said Australia remained important to Shell "but we are making tough portfolio choices to improve the company's overall competitiveness".
"Our customers will continue to benefit from the quality associated with the Shell brand and we are confident Vitol will invest in and grow the business," he said.
The Australian Workers Union, however, said it wanted assurances jobs would not be lost in the sale process.
"We're breathing a sigh of relief that the Geelong refinery will stay open, given the devastating news we had with Alcoa," AWU state secretary Ben Davis said.
"In the coming days we'll be seeking meetings with the new owner to get assurances that the new ownership structure will not lead to any loss of jobs.
Vitol president and CEO Ian Taylor said: "This is an exciting acquisition for us, a good company led by an experienced management team and underpinned by the value of the Shell brand.  Australia is a growing economy and we look forward to working with the management team to strengthen and grow the business."
The Vitol Group was founded in 1966 in Rotterdam, the Netherlands. Since then the company has grown significantly to become a major participant in world commodity markets and is now the world's largest independent energy trader.
Its trading portfolio includes crude oil, oil products, LPG, LNG, natural gas, coal, electricity, agricultural products, metals and carbon emissions. Vitol trades with all the major national oil companies, the integrated oil majors and the independent refiners and traders. Globally, Vitol trades more than five million barrels of crude oil and oil products per day and revenues in 2012 were $303 billion.
Shell's Australia country chair, Andrew Smith, acknowledged the enormous contribution that Shell's downstream employees had made to the company over the past 113 years.
"Like any business that operates for over a century, Shell's business has changed over the years, and we are pleased to have found a buyer for the Geelong Refinery," he said.
"Through the brand agreement reached with Vitol, the Shell brand will continue to be displayed across the company's service station network and customers will still have access to quality Shell fuels and lubricants.
"Shell will continue to play a major role in the development of Australia's expanding liquefied natural gas industry, and we look forward to strengthening our presence in the years ahead."
The deal is subject to regulatory approvals and is expected to close in 2014.
Recent downstream divestments by Shell include the sale of refineries in the UK, Germany, France, Norway and the Czech Republic; downstream businesses in Egypt, Spain, Greece, Finland and Sweden, as well as the creation of a downstream joint venture – with Vitol and other partners – across Africa, and the planned sale of some downstream businesses in Italy and Norway.