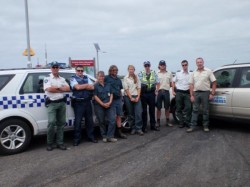 By PAUL MILLAR
BOAT owners will receive a few lessons in reality during an awareness campaign at the Ocean Grove boat ramp on Sunday.
The theme of this year's campaign is: "When you're upside down it's too late".
Key agencies will share information and provide advice to all watercraft operators during the session, which will run from 9am until 1pm.
The community boating day is a partnership operation between Barwon Coast, Victoria Police, Transport Safety Victoria (marine) and local environmental and fishing groups.
Barwon Coast's Maddie Glynn said it was not a compliance operation, but more of a day of information sharing.
"The day is about creating awareness on safety and responsible boating to ensure others and yourself stay safe this summer; don't become a statistic," Ms Glynn said.
"We invite all water craft operators to bring their families down on the day and chat to the many representatives who will be able to assist you with all your local boating and fishing inquiries."
The day includes free giveaways.