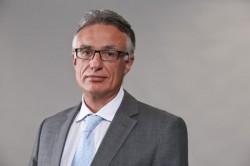 By NOEL MURPHY
FORD'S North Geelong plant could be converted to a multi-million dollar pharmaceutical manufacturing site if a Sydney cell biologist has his way.
Managing director of Benitec Biopharma
Limited, Dr Peter French, said he was keen to utilise Ford's plant when it is decommissioned from car-making, to manufacture drugs.
He hopes the operation could become a giant global enterprise based at Geelong.
Benitec Biopharma operates out of Sydney but Dr French, who earned his doctorate at Deakin University, is testing new drugs which could lead to a single-injection hepatitis C treatment.
If successful, this could change the lives of up to 170 million hep C sufferers around the world.
Dr French's research is also tackling gene therapy assaults on hepatitis B, affecting 350 million, and lung cancer.
"We're starting trials in America soon and if they're shown to be safe and effective we'll gear up for more trials and then start thinking manufacture," Dr French told the Independent.
"But the time is now to talk to governments about assisting us. There is clearly a need for Australia to embrace clever technologies and we are the only gene therapy technology company in Australia.
"We're a small company with an enormous potential if we can provide a single-shot cure for hep B and C."
Dr French said Chinese investors had shown interest in his company's work but he was keen to keep manufacturing in Australia and, with major manufacturers such as Ford culling back their operations, he thought Geelong was a good proposition.
"The shell of the building would be useful but at this stage we have no idea exactly what space we'd need, it's still at a very early stage, but we need to start thinking about it now," he said.
"My main aim is to get the Government thinking about the possibility of more creative uses of its subsidies to old industries and how it could be helping new industries."
Dr French thought start-up cost savings could be achieved by helping new industries utilise the infrastructure of declining industries.
The US Food and Drug Administration is tipped to give the nod within weeks to Benitec's breakthrough technology that would result in patient DNA affected by hepatitis being shut down with a single injection medication.
The treatment involves an artificially-built DNA strand carried to the liver by a benign virus injected into the patient. Liver cells then generate a therapeutic double stranded RNA molecule, which shuts down the hepatitis C from replicating.
Dr French's aspirations of utilising the Ford site have drawn national attention, including a qualified nod from former prime minister Bob Hawke.
"For us to go overseas would be a great loss for Australia if we're as successful as we hope to be," Dr French said.