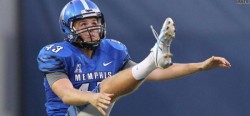 By JOHN VAN KLAVEREN
TWO Geelong footballers are making waves in American college football, both shortlisted for a prestigious award.
Tom Hornsey, playing for Memphis Tigers, and Cameron Johnson, with Ohio State Buckeyes, have delighted their American coaches with their kicking proficiency.
The former St Joseph's Football Club players have enjoyed meteoritic rises in American college football ranks, with both on track to make the professional national league.
Hornsey made the top three of a prestigious Ray Guy award, given to the best college punter in America. Johnson was a semi-finalist.
Punters are used defensively to kick the football deep into the opponent's territory to improve field position.
College football is extremely popular in the United States, with multi-million dollar programs often playing in large sold-out stadiums.
ProKick Australia's Nathan Chapman, who trained both men, said they had professional-style techniques, with the ability to boot the ball long as well as place it accurately.
"For Tom, the next five months will be busy because he will be on a pathway to the NFL. He'll be scouted, there will be trials and an invitation to the NFL combine where they undergo testing.
"It all ends at the NFL draft to see if he is chosen by one of the 32 professional teams."
St Joseph's club secretary Brett Bentley said Johnson had been a rookie-listed player with Melbourne.
"It's good for these young guys – even if they don't quite make it in the AFL there are other pathways to professional careers," Mr Bentley said.
"The club is rapt for them and hopefully they can make a career out of it, they're both good athletes.
"Secretly, you'd like them to still be playing for the club but it's great for them."
Hornsey told USA media he was honoured to be in the top three for the Ray Guy award.
"I suppose it is a good reward for the hard work I have put in but also for the people that have made this happen – all of my coaches and my coaches back in Australia that put the work in (on my) technique as well as keeping me mentally focused," he said.
"It's an honour for me but also an award for them and all of their hard work."
Hornsey has been Memphis's punter since his freshman season in 2010. His 43.1-yard career punting average ranks eighth among top division punters.
"I would have never imagined it six years ago when I didn't know college football even existed, so it's been kind of an amazing journey so far and one that I hope to continue."
Johnson's coach, the widely respected Urban Myer, described the young punter as a "valuable weapon", lauding his knack to put back-spin on the ball using his Australian Rules football skills.