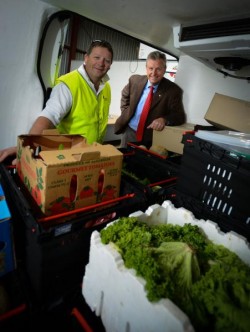 By MICHELLE HERBISON
AN ORGANISATION providing welfare agencies with unused food delivered 200,000kg of fresh produce in Geelong last year, according to its records.
SecondBite's two vans collected and redistributed fresh fruit, vegetables, dairy and meat products to provide the equivalent of 600,000 "hearty 500g meals" for the city's disadvantaged.
Geelong Mayor Keith Fagg this week rode a SecondBite van with food program coordinator Ben Hill to learn more about the organisation's work.
Seventy Geelong-based programs benefit from SecondBite's food rescue services every week
"Before SecondBite, one particular Geelong-based agency would provide soup to the homeless using stock powder. Now they provide nutritious nourishing soup, filled with fresh vegetables plus fruit and yoghurt for their clients," the organisation said.
SecondBite said bookings to ride in the van with Mr Hill from 8.30am to 2pm Mondays, departing Moolap, were available by phoning 0427 032 933 or emailing vicki.barwonheads@live.com.au.