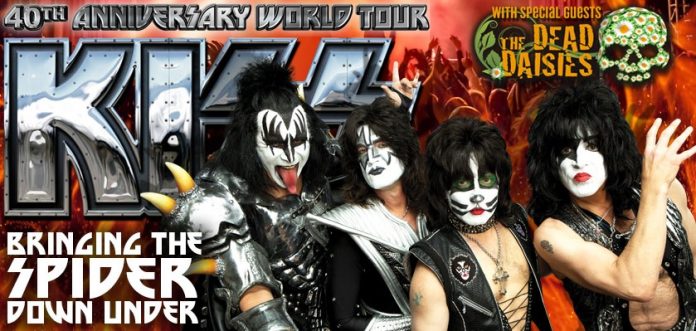 By NOEL MURPHY
A BEHIND-the-scenes campaign to bring rock giants KISS to Geelong's Simonds has failed to eventuate, drawing a frustrated response from mayor Darryn Lyons.
Cr Lyons told the Independent the City almost signed the 1970s and '80s superstars on several occasions, but the KISS Australia tour for later this year is now sticking to capital cities with only one regional city on the schedule – Newcastle.
"It's disappointing that KISS won't be performing in Geelong especially when council had several discussions with the tour promoter," he said.
"We had discussed a March date for Simonds Stadium. It's just disappointing to miss out for the fans and for the city."
KISS publicist Chrissie Camp said promoters talked regularly to venues all across the country but could not elaborate any further on what happened with Geelong's bid.
Cr Lyons said he was in the dark as well. He said he had talked at length with promoter Andrew McManus about a triple rock program with KISS, Alice Cooper and Motley Crew but had not been told the bid failed.
"It was going to be big and we put in a huge amount of time, our officers put in a huge amount of time, with Andrew and his people. He was extremely positive.
"I'm really disappointed. This was going to KISS at Gene Simonds Stadium. I pulled every trick in the book to get them and I feel let down on behalf of the Geelong community. The KISS  army is a massive organisation and following and would have been huge for Geelong."
Cr Lyons said the ongoing inability of Simonds Stadium to draw major events was an issue of great concern to Geelong, given ratepayer and taxpayer financial support it receives.
"It's got to be seriously looked at, we're talking hundreds of millions in a stadium that's under-utilised," he said.
"I'm hopeful that when the stadium trust with the state Government is formed, it will consult with people not just from football but Big bash cricket and in particular people with an entertainment background. I look forward to meeting with Steve Bracks, who will head the trust, as soon as possible."
Cr Lyons said the State Government needed help to make major events such as KISS occur.
"We lost The Pirates of the Caribbean under the last State Government to Queensland, which gave them tax breaks and incentives to film it there," he said.
"If Geelong is to be a major events centre – and city tourism is up 23 per cent — we have to become major player with football, Big Bash and rock concerts. The Cadel Evan race drew 75,000 people who travelled here and booked out accommodation within a 60km radius.
"We've proved ourselves time and time again. Avalon saw more than 200,000 rock up — all these events are done with State government assistance. This KISS snub is a major disappointment – especially without as much as a phone call."
The KISS tour – which will bring Paul Stanley, Gene Simmons, Eric Singer and Tommy Thayer Down Under as part of their 40th Anniversary world tour — will kick off in  Perth, playing also at Adelaide, Melbourne, Sydney, Newcastle and Brisbane between October  3 and 13.
KISS has captured a raft of inter-generational fans with hits such as Rock'n'Roll All Nite, I Was Made For Loving You, Detroit Rock City, Love Gun, Shout It Out Loud, Lick It Up and God Gave Rock'n'Roll To You.