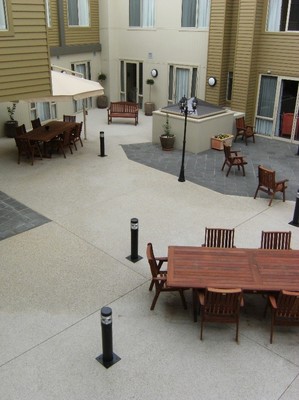 Residents at Brentwood Aged Care have a full range of professional support in place to ensure they can age gracefully in a caring, family environment.
Brentwood Aged Care is a family-owned and operated facility located in Latrobe Terrace and recently celebrated 10 years' service in the local community.
General manager Craig Campbell says Brentwood's modern 104-bed facility offers permanent and respite care with ageing in place.
"Registered nurses are on site 24 hours a day and each person has the right to be attended to by a GP of their choice."
"We offer a variety of Allied Health services including physiotherapy, podiatry, speech pathologist, wound consultation and dietary services.
Brentwood Aged Care's services at Geelong include a 19-bed dementia support unit with a dedicated staffing model to ensure optimal care for residents with memory impairment.
Brentwood Aged Care also provides palliative care services with highly trained staff, with access to palliative care specialists.
"We are committed to the best clinical care and provide emotional and spiritual support for residents and their families when people are at that stage of their lives," Craig says.
"Our leisure and lifestyle team provide activities five days a week with a comprehensive program to help ensure positive wellbeing.
"Regular entertainers and frequent visits from schools and other social groups sustain our connection with the local community. "Brentwood is a pet-friendly facility with family members encouraged to bring in friendly pets to interact with our residents."
Brentwood is designed around a central secure courtyard which provides a focal point where residents and their families can enjoy fresh air in comfortable surrounds. This promotes social interaction and health and wellbeing.
To discuss individual needs or arrange a personal tour of Brentwood Aged Care, call 5221 5733.