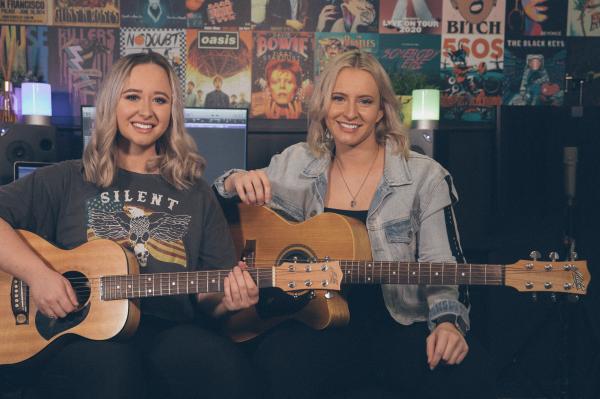 By Luke Voogt
After a rollercoaster of chance and not-so-chance celebrity meetings and international tours, Grovedale sisters Lauren and Sheridan Harvey are now carving their own musical path.
The dulcet duo known as Lash78 plan to debut tracks they wrote in iso for Geelong live-streamed show Bored in the House on Friday night.
"Not even our closest friends have heard them yet because we've been in lockdown – we wrote one of them the other day," older sister Lauren, 23, told the Independent.
After a long hiatus from the stage, Friday's live-streamed gig at Geelong Arts Centre is a homecoming for the Harvey sisters.
"My first ever solo was at GPAC (then Geelong Performing Arts Centre) at age four so it's nice to perform there," Lauren said.
The sisters have been singing "for as long as we can remember" and their three other siblings and grandparents are also musicians.
"Singing was in our blood," Lauren said.
"I remember at kindergarten they had a little fake microphone set up for me."
At home the sisters would sing Wiggles hits as their dad played the drums.
"We had the old Australian Idol karaoke set," Sheridan, 22, said.
"There's heaps of memories like that."
Their band name has a simple origin – the first two letters of their names and their ages at the time of a family trip to Tamworth Country Music Festival.
"I think mum came up with it, she's pretty good with that sort of stuff," Sheridan said.
"One night mum and dad decided we would stay in the most expensive hotel where all the celebrities were."
There they spotted country music icon Lee Kernaghan and the sisters played a tune for him.
"Lee looked at us and said, 'I want you to open my Outback to the Beaches tour [in Geelong]'," Lauren said.
The sisters opened for Kernaghan in front of up to 25,000 people in subsequent shows, but playing together helped with the nerves.
"We could just look over and see each other and it would be like the crowd wasn't even there," Sheridan said.
"It was like we were in our lounge room."
When Lauren scored a role in a Melbourne production of Billy Elliot at age 12, the sisters would spend spare hours busking on Swanston Street.
"The crowds would actually block the footpath and people would go onto the road just to see us," Sheridan said.
With the Melbourne International Comedy Festival across the road, they ran into both David 'Hughesy' Hughes and Stephen K Amos.
The meetings led to gigs on Hughsey's radio show and at the festival with Amos.
About five years later the sisters' busking on Bourke Street caught the attention of rapper Lupe Fiasco and his entourage, which led to tours of the US and Europe.
They have since supported names such as Darryl Braithwaite, Thirsty Merc, Mental As Anything and Kingswood.
Last year they released debut EP Who, which made waves at Airlie Beach Music Festival, and they had plans for a US tour this year.
But despite being grounded by COVID-19, the sisters recently played an online set for the aforementioned festival, which is set to air in the UK.
"It's been an absolutely crazy ride, hopefully from here on out things just get bigger and better," Lauren said.
They plan to release new tracks in Friday's Geelong Arts Centre show.
"Expect to hear music that's going to make waves in the Australian music industry," Sheridan said.
When the sisters were young, music teachers urged them to perform together after hearing their voices combine.
That same sweet harmony, combined with clever lyrics, is the centrepiece of their rocking tunes and smooth ballads.
"We have such different voices but they blend so beautifully," Sheridan said.
Details: geelongartscentre.org.au