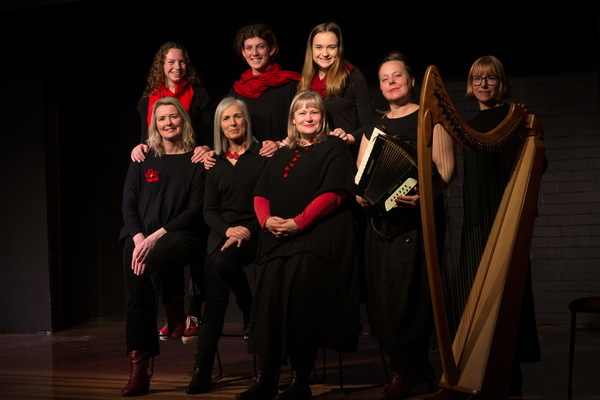 Two Surf Coast productions exploring "controversial" topics are set to feature as part of a double-show performance at Anglesea this weekend.
Slipped Through the Cracks and The Blood Cries Out of the Soil are the latest offerings to come from local theatre company Anglesea Performing Arts (APA).
Geelong actress Janine McKenzie, who is the only actor to feature in both plays, said the performances bring together two "different" theatre styles.
"One is a bit more of a naturalistic telling about a foster family while the other is inspired by some poems from Jewish children after world war two," she said.
"But both of them link together through this idea of the home being disrupted by a force greater than itself."
McKenzie takes on the character of a social worker in Slipped Through the Cracks, an original work by emerging local playwright Jules Allen.
The play took out four awards at the One Act Play Festival last weekend that featured 17 plays from theatre companies across the state.
McKenzie said the performance is based on Allen's real-life experiences, having fostered more than 30 children and worked for the Department of Human Services (DHS).
"It provides an interesting insight into a world that perhaps a select number of people would have knowledge about," she said.
"It shows that ordinary people do foster – they're not angels, they're not heroes, they just have a place in their heart for a child in need."
The two performances are directed by Lorne's Iris Walshe-Howling and features a local cast.
McKenzie, who has worked as a drama teacher for more than two decades, said she had no desire to purse acting until becoming involved in a school play.
"When I was in grade six we did this class production and I ended up writing the script, directing it and acting in it," she said.
"My teacher said to my mum 'Janine is quiet good, maybe you should get her into this world'.
McKenzie moved from Ballarat to Geelong more than 20 years ago and has acted with APA since 2016.
She said she has enjoyed being involved with APA's brand of theatre that exposes "uncomfortable truths".
"People love what we do even when it is pretty heavy," she said.
"You don't get the type of theatre APA produces very often in this part of the world."
The performances comes to the Anglesea Memorial Hall tonight, tomorrow and on 30 and 31 August.