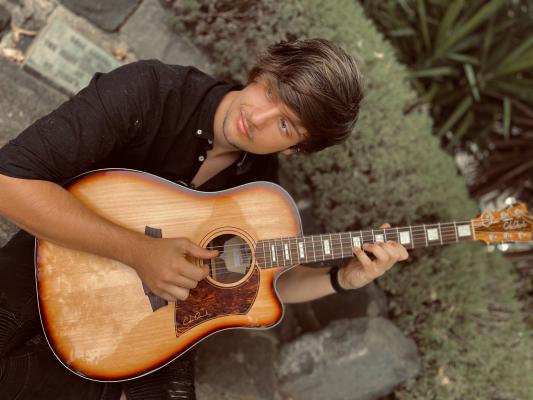 By Luke Voogt
A series of soirées featuring Geelong's most promising young jazz musicians has returned to Geelong Botanic Gardens with two new special guest performers.
Geelong vocalist Paige Keel and guitarist Michael Smallwood are set to join the line-up on Saturday after state government's snap lockdown postponed the first of the Geelong Jazz Soirées.
The series, the brainchild of Torquay piano prodigy Callum Watson, returned last weekend and is set to continue this Saturday and the following two Saturdays at 2pm.
Earlier this month Watson, 23, spoke to the Independent about his excitement to play "with so many talented jazz musicians" for his first gig in almost 12 months.
But the snap lockdown postponed the first of four soirées.
Moriac singer Lucy Head will miss out on performing due to the change of schedule.
"Otherwise, we've done pretty well," Watson said.
"We've managed to move everyone else from that first show around a little bit and make it work as well as possible.
"It was stressful trying to get the series back on track but I was really pleased that we able get together a series that is quite entertaining."
Watson admitted the timing of the lockdown had been terrible but acknowledged its necessity.
"To get told the day before was devastating after putting months of work into it," he said.
"At least [the snap lockdown] prevented us plunging into a longer lockdown, which would have been crippling. We've got a long road ahead of us in the industry."
Watson hoped the Geelong Jazz Soirées, a combined concert and livestream series, would reveal some "hidden-secrets" of local jazz to Geelong and the world.
"It's got a big focus on Geelong people that might have been struggling through COVID, but have great promise," he said.
"Hopefully people find something new and interesting that they want to continue to support."
Watson is no stranger to international exposure, having represented Australia at the 25th Young Composers Meeting in the Netherlands in February 2019.
The annual event features the world's most promising jazz and classical composers, and was the latest milestone in Watson's musical journey, which he began by learning piano at age five.
Watson's latest live music project, the soirees, feature Colac vocalist Michelle Benjamin.
Belmont and Bellarine bassists Rob Gador and Zac Barter and Grovedale saxophonist Michael Tinta will also join the series.
Bass veterans Sean Loughran (Geelong) and Evan Jones (Aireys Inlet), and Melbourne saxophonist and 2019 Young Australian Jazz Artist of the Year nominee Flora Carbo round out the list of talented musicians.
The series still has tickets available for the next two concerts, with the final show sold out.
Details: callumwatson.com.au/geelongjazz