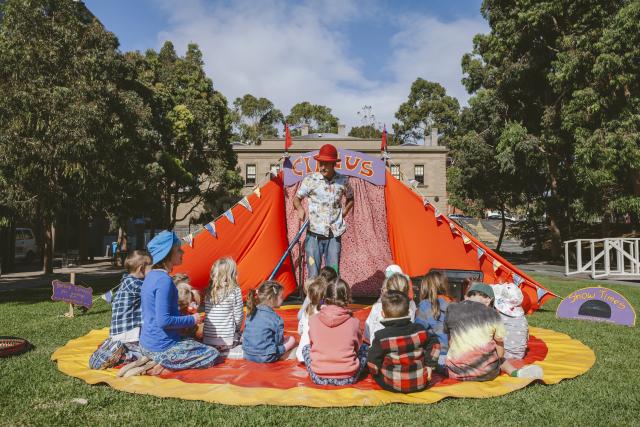 The City of Greater Geelong is hosting a range of activities to help kids have fun these school holidays.
Deputy Mayor Trent Sullivan said the City of Greater Geelong was running an exciting program for kids including puppet shows, circus performers, roving music and Easter craft activities.
"There's a lot to keep the whole family entertained these school holidays across Greater Geelong and the Bellarine," he said.
"We want to provide opportunities for younger residents to get out and experience new activities this autumn."
Community health portfolio chair Sarah Mansfield said the City was conscious of the need to provide activities for young people, particularly at times when parents may be juggling work and other commitments.
"It's wonderful to see a jam-packed program available for kids across Greater Geelong. We have activities available for kids of all ages and some activities for parents too," Cr Mansfield said.
The free activities will include a solar powered puppet show from 10-10.45am on Wednesday April 13 and 20 at the Green Spin Park in Malop Street and Nic Dacomb's Bebop Circus from 11.30am-1.30pm on Thursday, April 21 at 111-113 Little Malop Street.
Children will also have the chance to use potato printing techniques to make their own Easter cards on Monday, April 11 and Tuesday, April 12. Sessions start at 10am and 11am at 111-113 Little Malop Street and bookings are required.
There will also be roving beats and bubbles from 12pm to 2pm on Tuesday, April 19 at the Green Spine Park, while Johnstone Park will host activities for children to make large-scale walking drawings with jumbo chalk sticks from 11am-4pm on Saturday, April 9 and 23.
Also among the activities are 'Draw the Music' sessions, where children will be guided by a local artist to create a work of art that captures the sound around them.
The session will be held at Centrepoint Arcade Atrium, from 10.30-11.20am on Thursday, April 21. Bookings required.
Children will also be able to join Manda Lane for a free colouring in activity, celebrating native florals of the Greater Geelong region by decorating a series of paper florals that will be collected and turned into a mural on Little Malop Street.
The session will run from 11.00am-2pm on Saturday, April 16 at the Love Central Geelong Hub at 111-113 Little Malop Street. Bookings required.
Details: centralgeelong.com.au